We've previously written about Katja Steenkamp and her decision to take on the Tour d'Afrique for Qhubeka. Now Katja is back, having successfully completed her journey. In fact, she was the top-placed rider – the first time in the history of the tour that a woman has won – and one of only three riders on the tour to ride EFI (Every F***ing Inch of the way). To date, she has raised over R45 000 to fund bicycles in Qhubeka's programmes. We asked her to share some memories and insights from her Tour d'Afrique journey with us here: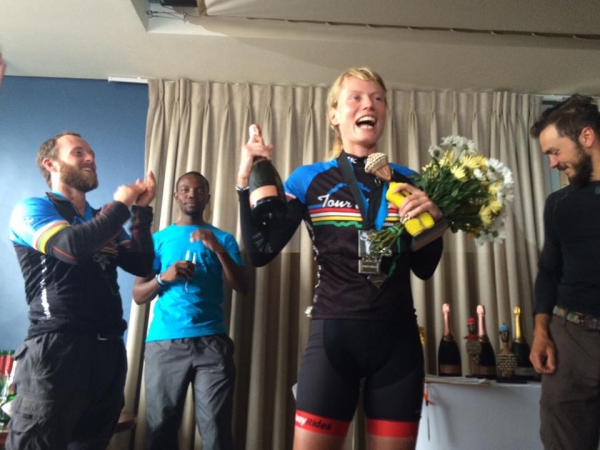 "Over the duration of four months (Jan to May), participants from all over the world ride through 10 African countries. The event started in Cairo, Egypt, at the Pyramids, and finished in Cape Town, South Africa, near Table Mountain.
We rode through the most arid and deserted regions in Egypt and Sudan, climbed to breathtaking heights in the Ethiopian Highlands and enjoyed lush green valleys in Zambia and Malawi. Elephants crossed our route in Botswana while the stunning Namib desert in Namibia and later the Cederberg in South Africa left us speechless owing to their natural beauty.
Crossing the African continent from North to South means that the climate changed constantly. We began our journey in the Egyptian winter, a very dry but mild climate. The temperatures picked up in Sudan, where it rose to over 40 degrees Celsius during the day. The weather turned increasingly tropical the closer we moved to the equator, and changed back to a drier semi-desert climate from Botswana onwards until South Africa. The constant changing weather conditions and different organism and bacteria unique to each country, most notably in the tropical areas, were a challenge to our bodies before we even made a pedal stroke.
As with the climate, the terrain and geography changed dramatically throughout the trip. Egypt and Sudan were primarily fast and flat, riding hundreds and hundreds of kilometres across the desert. After one month of pan flat racing, we headed for our first mountain stages and raced for almost two weeks between 1 500 and 3 000m altitude across the Ethiopian Highlands. The next 40 days were a mix of mountain and flat stages, often in above 1000m altitude. Botswana was fast and flat perfect to recover the legs a bit. The route through Namibia and South Africa proofed to be the most difficult section where corrugated, sandy and mountainous gravel routes were testing the strength and endurance of our legs."
What are you most proud about in your Tour d'Afrique journey?
"I had this dream to take my bike and ride it across Africa. That I managed to do just that is what I am most proud of. Most people don't really take you seriously when you tell them about a project like this. They think you are nuts, tell you how dangerous it is and doubt that you will not be able to do it. It is not an easy path and takes a lot of careful planning, the support of sponsors, mental and physical strength. You want to find individuals that believe in you and encourage you when it gets tough. At the end, the hard work and sacrifices are all worth it when you get to achieve what you had set out to do.
I am also proud to have kept my EFI status until Cape Town. Most Tour d'Afrique riders attempt to ride 'Every F***ing Inch' without the need to ride the support truck. Yet, over the course of four months, most riders will get sick, fatigue or have an accident at some point, which forces the rider to get on the truck. Only very few receive EFI status in Cape Town."
What was the hardest bit?
"I experienced many super challenging moments, like strong headwinds for hours or the limited privacy one has on a tour like this, especially in the arid and hot regions in the North of Africa, where the riders have no other choice than huddle under the little shade that is provided by the truck cover. You're in the middle of nowhere and can't hide from the heat. Another challenging situation was the day we had road corrugation and sand for over 50km in Namibia. Riding 32mm cyclocross tyres means you just sink in the sand. It feels like someone is constantly pulling your bike backwards against your travel direction. I was so exhausted that I screamed a few times that day in the emptiness of the Namib desert.
Oh ya, the day I stepped on a tent peg was definitely one not to repeat. It was extremely painful. I almost lost my EFI. I did get back on my bike, although I only was able to ride with more or less one leg for a couple of days. The medical support on the tour was fantastic and contributed to a very swift healing process.
But all of it belongs to an adventure like the Tour d'Afrique and deepens the experience."
What was your favourite part?
"I had an amazing time riding through the Tanzanian jungle. Shortly after Arusha, we turned off the main road into off-the-beaten-track territory and rode mostly through thick tropical forest, national parks and small villages all the way to Mbeya. The moment my wheels touched the soil I felt like a fish thrown back into water. We had ridden mostly on tarred roads since Cairo, with a short off-road section in Sudan. Those five days in Tanzania were some of the most fun-filled days on the bike. I felt in harmony with nature and the surroundings; kilometres just flew by.
I had another incredible moment when I felt the linen of my hotel bed in Khartoum after a month of desert life. It was the mundane thing of sleeping in a bed and having a hot shower that left me with goose bumps; a sensation I had a few times during the trip.
In Kenya, I walked to a shop one evening and had this small child following me. He couldn't have been older than four. He walked next to me for at least 10 minutes and then all of a sudden started holding my hand. We walked for awhile, him with a huge smile on his face. We did not talk much, but that moment I felt so connected to this child and the people in the village.
It is hard to really single out one favourite part. On a bike you do not only see a country, you also feel it, hear it and smell it. It's a constant stimulation of your senses. The close contact with locals, the tough climb up a hill, the sand storms through a desert, or the insane traffic going into bigger cities – it all adds to a rich journey. Sometimes it's overwhelming, but it does make your travel experience true, pure and authentic. I loved every minute of it."
What did you learn from the experience?
"Two things:
1. You are in charge of your own destiny. If you have a dream, go and make it happen. Don't listen to naysayers. Surround yourself with positive, supportive individuals. Work on the realisation of your goal each day a little bit, and the day will come when your dream comes true.
2. The ride was not always an easy one. As with life, there were extremely tough stretches in between where I was close to giving up. I learned that it is worth pushing through the challenges, no matter how hard they seemed, that our mind and body is capable of so much more than we believe, and that the hard bit will pass with a beautifully sweet section waiting on the other side."
Why did you choose to support Qhubeka?
"I have been involved in different community and NGO projects for many years, and ran my own NGO at some point. Given my limited time, I realised that I could have a greater impact if I focused my energy on fundraising rather than on all aspects that come with running a NGO. Two years ago, I heard of Qhubeka through friends of mine. After reading a bit more about their mission and the incredible work Qhubeka does, I knew that this would be a perfect fit. Qhubeka is a very professionally run NGO, and has a fantastic support structure for their fundraising community. I can use my passion for cycling and make a difference, knowing that the funds raised will reach the intended recipients. While travelling through Africa, I saw many Buffalo Bicycles in use… Children riding to school, women and men transporting heavy goods to make an income. It was extremely inspiring to see the 'Power of Bicycles'. The tools and materials available make it so much fun to think up and realise fundraising projects.
My next event is already in planning. Keep your ears on the ground!
You can follow my fundraising projects on my website, or on social media (Twitter, Facebook, Instagram)."