Richard Scott, an internationally recognised artist based in Cape Town, is renowned for his simple Naive/POP images.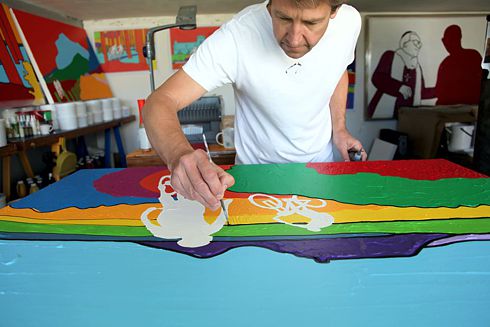 "If I look back now as I read about art, I realise that the work of most artists worldwide follows a theme close to them or their country," he writes. "I was passionate about being universal and not taking on a label. I steer clear of issues and focus on simplicity and colour. I want people to enjoy my art on their walls, not spend hours trying to figure out the issue, meaning or hidden message. Maybe as you become more renowned, it cannot be avoided."
Richard has created a series of  five prints for the 2015 Absa Cape Epic stage locations. "The Absa Cape Epic is a Mountain Bike Stage race over eight days and passes though many towns in and around the Western Cape, South Africa," he explains. "The five prints are of the towns in which the riders sleep during the 2015 event."
Richard has chosen to donate 25% of the proceeds of sales from this series to Qhubeka, to help us mobilise more people with bicycles. Thank you, Richard!
For more information about Richard Scott, visit his website or his online shop.